Modules and services to implement your own ETRM and CTRM
Whether on a Cloud or on site, create your tailor-made solution.
Pay only for the necessary.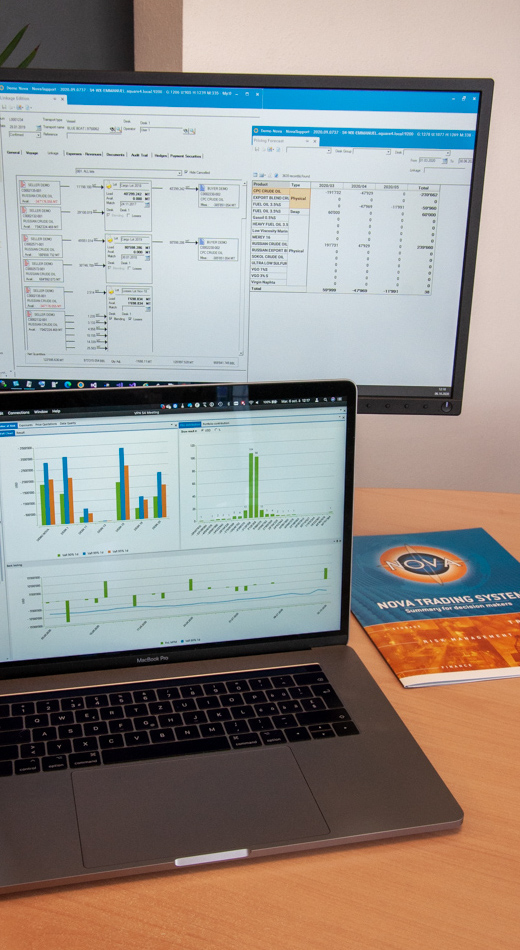 Operations
The complexity of loading / unloading, different types of transport, challenging time slots and trade-offs are part of the operational reality.
The proven flexibility of Nova Trading System allows you to update your data at any time. Monitoring is facilitated thanks to the use of different dashboards and the "To do lists".
Thanks to the integrated "Electronic Document Management" module, Nova greatly simplifies your administrative document tracking tasks.
Risk Management
Many risks exist in trading: markets, geopolitics, operations, currency exchange, human error, etc.
Thanks to its perfectly integrated modules of PNL variation, Exposure, Swap, Future, Options, Value At Risk, Forex, Audit Trail, Nova helps you control your trading risks.
Have all the cards in your hands to act at the right time.

Reporting & Business Analysis
There's no efficient trading without precise and regular analysis of your data. In order to increase your efficiency, and because each user has specific needs, each Nova module comes with standard and customizable reports.
Nova integrates pivot tables, charts, alerts, exportable lists in Excel, but also dynamic connectors for "Microsoft Excel" and "Microsoft Power BI" for more in-depth analyzes.

Trading
Given the volatility of the markets, it is essential for your business to have good visibility and control of risks.
Nova allows you to manage your physical and paper deals in one software, see exposure in real time and take the right decisions.

Treasury / Finance
One of the ways to increase your profits is to reduce your costs, including the elimination of expensive manual tasks or redundant systems.
Nova helps you to be more efficient thanks to its invoicing, reminders, payments, prepayments, EBanking interfaces, cash flow, cash forecast, Loan, Forex, Credit Letter, Credit Limit modules.

Accounting
Nova integrates its own general and analytical accounting module with a rules engine for generating automatic journal entries in order to reduce tasks, errors, clutter and cost of a dual system.
If you already have accounting software, our automatic interface allows you to synchronize your data on a daily basis.
Nova is compatible with most recent software such as: JD-Edwards, SAP, GIT, Cresus, Sage, SunSystems.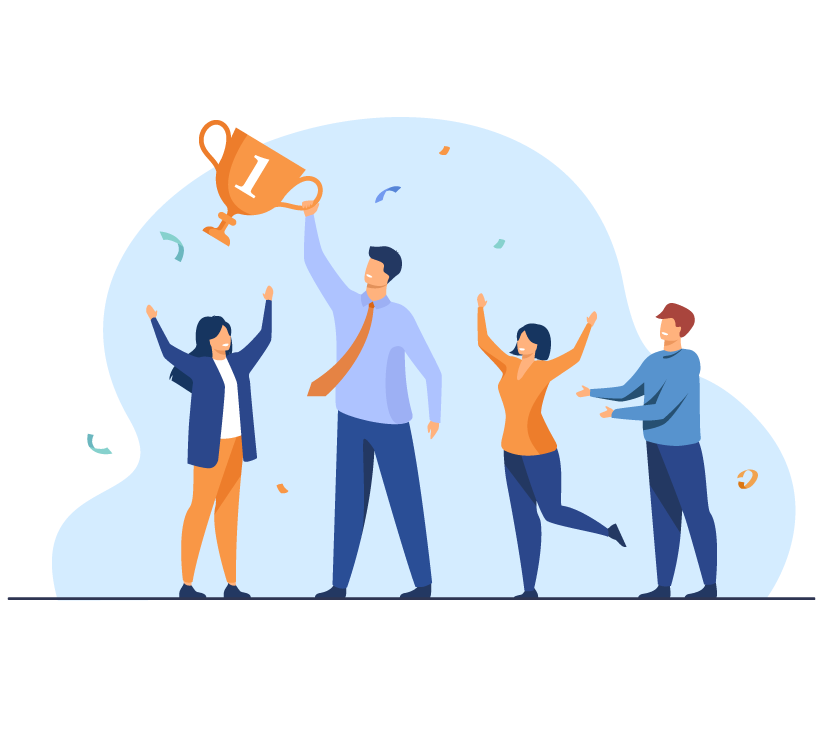 Become an expert in your profession
Thanks to its easy handling, its regular updates and a dedicated team to meet each of your requirements, Nova Trading System is the right solution for the search of precision, control and cost reduction.
Save time with integrated modules
Give up your different tools and individual Excel sheets in favor of the collaborative Nova solution, which saves time during reporting and allows us to work together on the same data.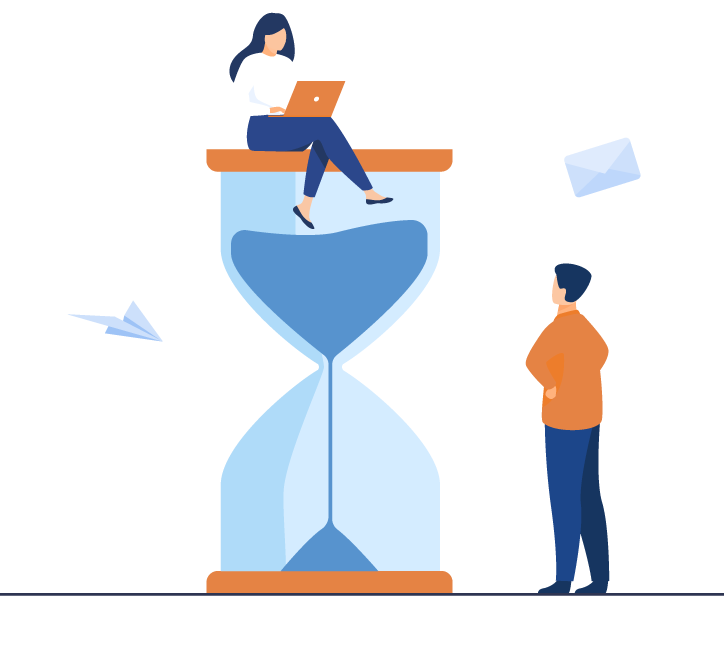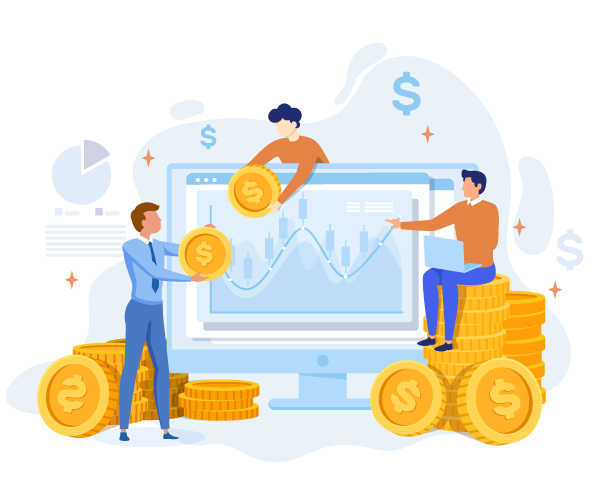 Improve your income by controlling risks
With Nova, boost your performance by controlling your risks, reducing costly errors and making the best decisions.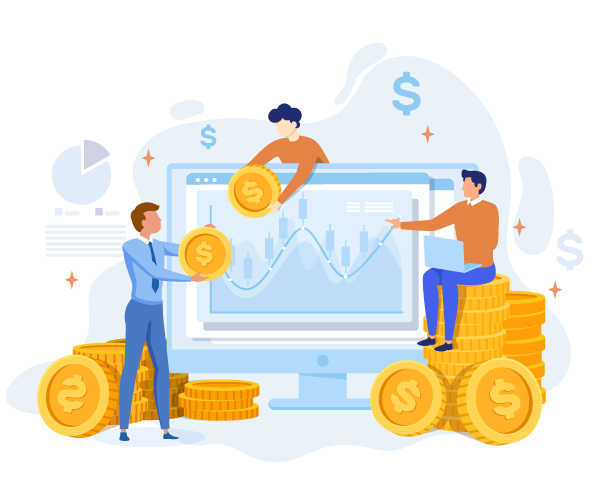 Nova Trading System's FAQ
A bilingual team at your service to meet all your needs.

.
Can we insert quotes for our Platts subscriptions (or PVM or other data provider) in your software package?
Of course ! There are several methods to download your quotes, as well as the exchange rates. The most commonly used is to establish a secure connection on the different platforms of the providers. More simply, the import can also be done via an excel file.
Nova Trading System will perform an automatic "Reprice" in real time,; the P&L, the exhibit, will be updated within minutes. Invoicing can be established with the latest official quotes.
I am the Middle Office of my company, I have to follow the exposure of the deals that the traders have negotiated. What tools do you offer?
Depending on the segmentation – by market, by product or any other important element in your organization – the various standard reports of Nova Trading System make it possible to follow the exposure to the Mark to Market and the Pricing Forecast. 
Other "Pivot views" or pivot tables allow you to evaluate all or part of your portfolio, according to pricing criteria: Priced only / Priced versus Unpriced / Unpriced only / Total. 
All Nova Trading System reports are user editable.
Is it possible to track my bank positions?
The "Treasury" module contains a Cash Forecast report in the form of a Pivot view
Upcoming payments and due dates, by bank, currency, or overall, feed into this report. You can have a position at any time and make the necessary decisions regarding transfer from account to account, currency hedging, etc.
The various ERPs we evaluated only provide a daily P&L. What about Nova?
As soon as an action by a user or an automated process is taken, Nova Trading System recalculates the P&L in real time. It could be eg. the insertion or modification of a deal, costs or income, quotes, etc …
What are my guarantees in the event of a problem?
The maintenance included in Nova Trading System covers the technical problems of the Soft as well as the correction of the malfunctions identified on the delivered functions. 
In the event of a blocking problem, our technical teams make themselves available to investigate and correct the point within 8 hours of receipt. A corrective version will then be deployed 
Need advice on the use of Nova Trading System, a technical question or a specific request? Our Support teams answer you directly